Under the leadership of Dr. Marilyn Winkleby, founder and faculty director of the Stanford Medical Youth Science Program (SMYSP), a number of manuscripts have been published in peer-reviewed educational and health journals. In addition, the talented students who have participated in SMYSP, have often been portrayed in the media. These students reflect the types of students to which Access to Achievement reaches out–motivated students who show academic promise but are often overlooked by traditional programs. Several of the most relevant publications that have received wide-spread press coverage are described below, with links to the publication.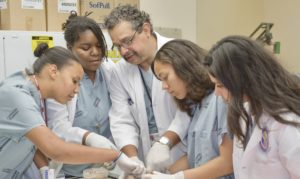 Winkleby MA, Ned J. Promoting Science Education. Journal of the American Medical Association 2010; 303(10): 983-984.
Promoting Science Education
This commentary in one of the leading American medical journals, commends President Obama for calling  on scientists and health professionals to stand side-by-side with entertainers and athletes to "show young people how cool science can be." The commentary discusses the crisis in science education, how the demographic and technological changes in the U.S. population have created an urgent need for a diverse workforce, and how schools and universities can serve as interventionists in precollege science education.
It reports the evaluation results of the 500 students who have completed the Stanford Medical Youth Science Program since 1988;  97% have been followed up for up to 21 years and 99% have been admitted to college. Of these, 78% of black, 81% of Latino, and 82% of Native American participants have earned a 4-year college degree (excluding those currently attending college).  In contrast, among 25- to 34-year-old US adults, only 15% of blacks, 10% of Latinos, and 10% of Native Americans earn a 4-year college degree.  Among the Stanford Medical Youth Science Program's college graduates, 47% are attending or have completed medical or graduate school and 43% are working as or training to become health professionals. Based on these outcomes, if one university in each state in the U.S. would support such a program, in 20 years more than 10,000 diverse low-income students could potentially enter science and health professions.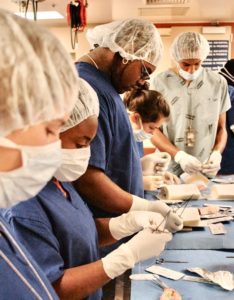 Winkleby MA, Ned J, Ahn D, Koehler A, Kennedy J. Increasing Diversity in Science and Health Professions: A 20-year Longitudinal Case Report Documenting College and Career Success, Journal of Science Education and Technology 2009; 18:535-545.
Increasing Diversity in Science and Health Professions
This article emphasizes the critical under-representation of African Americans, Latinos, and Native Americans among those who earn college and more advanced degrees. The disparities begin early. By 8th–11th grades, 70% of African American and 64% of Latino students in California score below basic proficiency in algebra and geometry compared with  30% of White, non– Hispanic and Asian American students. Furthermore, by 11th grade, more than 50% of African American and Latino students in California score below the basic level on English proficiency tests.
The 4-year college graduation rates for students from these three underrepresented minority groups, who represent 25% of the U.S. population, are 15% or less, half of that for White, non-Hispanics and Asians. When low-income status is factored in, the statistics are even more sobering. In California, only 3% of students who attend college are from families whose incomes are in the lowest 25th percentile of the income distribution. Such educational disparities are especially germane to California that became the first nonwhite majority state in 2000. It is predicted that the rest of the nation will follow this trend, with 50% of the U.S. population expected to be ethnic minority by the year 2050.
Low-income and underrepresented minority students remain a largely untapped source of new professionals that are increasingly needed to diversify and strengthen the biomedical workforce. Precollege enrichment programs offer a promising strategy to stop the "leak" in the biomedical pipeline. However, in the era of highly competitive science education funding, there is a lack of consensus about the elements that predict the long-term viability of such programs. In this commentary, Dr. Winkleby and her colleagues review the critical elements that contribute to the long-term viability of precollege pipeline programs. Successful programs are built on a foundation of responding to local community workforce needs, have access to local universities that provide an organizational home, and offer a direct pipeline to strong undergraduate science training and support for graduate or professional training. Such programs have shown that there are substantial pools of diverse students who can thrive academically when given enrichment opportunities.
This article describes the Public Health Advocacy Curriculum based on Dr. Winkleby's scientific work and developed by her Stanford research team. It provides a no-cost 10-lesson experiential Public Health Advocacy Curriculum for high school health education instruction that teaches students how social, political, and economic factors influence health. The classroom-based activities teach students about the upstream causes of health and engages them in community-based health advocacy.  The Curriculum has been being widely disseminated to local, national, and international audiences, with the objective of grooming a generation of youth who are committed to the public health perspective to health.
Winkleby MA. The Stanford Medical Youth Science Program: 18 Years of a Biomedical Pipeline Program for Low-Income High School Students. Academic Medicine 2007; 82 (2): 139-145.
Stanford Medical Youth Science Program