---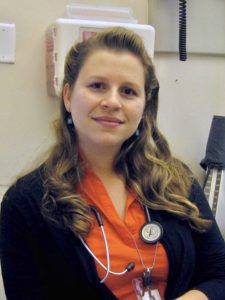 Irina Linetskaya, MD, MPH, Vice President, is a physician committed to a life of healing, with a deep understanding of low-income and minority youth. She met Dr. Winkleby in 1995 when she was selected to participate in SMYSP and has assumed leadership roles in youth mentoring programs since then. She brings expertise in youth empowerment and academic mentoring to the Board.
Dr. Linetskaya was born in Kiev, Ukraine to a Jewish family in an anti-Semitic Soviet Union. In 1977, the year she was born, her family was slated to immigrate to the U.S. to join her grandmother's
sister in California. However, just before their departure, the USSR closed its borders and her family became trapped in the Soviet Union for eleven years. By the time Gorbachev and glasnost arrived and Soviet borders reopened for Jewish emigration, the nuclear reactor at Chernobyl had melted down 60 miles away from her home in Kiev and both of her parents had passed away. Undeterred, Irina's grandmother decided to leave the country for the promise of freedom and opportunity in the U.S. At age 11, after a strenuous year-long journey, Irina and her elderly grandparents arrived in Oakland, CA to seek asylum as refugees of ethnic persecution. Her grandfather passed away in their first year in the U.S. Although safe from persecution, they struggled financially and Irina supplemented their public assistance checks with three after-school jobs She remained focused on education and on her long-shot dream of becoming a doctor.
In the 11th grade, at the Hebrew Academy in San Francisco, her biology teacher said, "There's a program at Stanford for low-income high school students who want to be doctors." She applied and was accepted. At SMYSP, she strengthened two important concepts that would shape her future: diversity and community. Although her 23 SMYSP peers did not share the same life story, they all shared an indelible bond of struggle – be it poverty, immigration, domestic violence, loss – and perseverance. They were a group of unlikely dreamers whose dreams would not be stifled by a society who would ordinarily overlook them. While a participant, Irina became very close to her counselor, Juan Ibarra, whose story of loss and survival resonated with hers. He remained her mentor for many years to come.Following high school, Dr. Linetskaya was accepted to Stanford where she majored in Human Biology with a focus on Community Health. In addition to multiple work-study jobs, Irina became very involved in community service ranging from children's issues in East Palo Alto, child-abuse prevention work, and HIV/AIDS outreach. During an on- site visit to Mission Neighborhood Health Center's HIV clinic, an evening clinic for HIV- positive Latino immigrants, Irina became deeply inspired by the center, its focused mission, and its impact on the Latino community. It made an indelible impression on her mind – she, too, wanted to become a community HIV doctor. Consequently, she spent her senior year in Ecuador learning Spanish and rejoined the HIV clinic as a summer intern promoting patient education.
In 2001, Irina started her training at Harvard Medical School where she continued to pursue her interest in HIV and global health. She gained experience in these areas through prolonged clinical internships in Senegal, Brazil, and Portugal. Fueled by her commitment to social justice through health, she received her primary care residency training at Montefiore's Program in Social Internal Medicine in the Bronx, New York, a program focused on delivering culturally tailored and justice-oriented medical care to impoverished communities in the U.S. and abroad.
Throughout her medical training, Dr. Linetskaya has maintained close ties to SMYSP, the program she proudly credits with changing her life. She continues to mentor teenagers, particularly immigrant youth, who do not have family role models or resources along their trajectory toward higher education. She has remained involved in the summer program as a speaker and as a mentor for SMYSP graduates as they launch their academic careers.
Still committed to diversity and social justice, Dr. Linetskaya now practices primary care at Callen-Lorde Community Health Center, an LGBT clinic offering HIV care, transgender therapy, and comprehensive primary care to marginalized and impoverished people. Fluent in Spanish, Russian, and Portuguese, Irina's patient panel is composed primarily of immigrants. She continues to travel the globe but calls Brooklyn, NY her home.