Gail Randolph lives in Los Gatos and is a retired teacher. She was born in New York, in 1940. She and her family came to California in 1944, with the impending draft of her father into WWII. They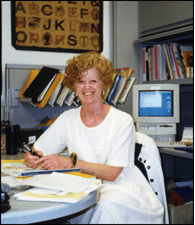 resided in a small apartment close to her aunt and uncle. It was there that her younger brother was born. She attended Los Angeles public schools, receiving a first rate, hands-on, elementary school education. The family bought their first house in the city of Lakewood with a $10 down payment. Her parents built their own home in Glendora, where she finished high school and attended Citrus Junior College while still living at home. In those small school environments she was identified as a leader, and participated in leadership activities and trainings. California's low cost education in those times enabled her to continue on to San Jose State University, and in 1962 she received a bachelor's degree in Elementary Education with an Elementary Science minor, and a Lifetime Teaching Credential.
Ms. Randolph taught second through eighth grades for nearly forty years. She followed her interest and passion to work with those who faced challenges, befriending and motivating them toward greater achievement and finding their personal expression in the world. She earned a Masters degree in Clinical Psychology from John F. Kennedy University in 1993. She was interested in communication skills, problem solving, and conflict resolution, which were always a part of her curriculum. For nearly a decade, she worked with gifted and talented junior high school students. She loved the rich cultural environment of Northern California, with people from all over the world present in her classrooms. When she wasn't traveling, the world was with her.
Loving children and students comes easily. Parenting her foster son is a great joy of her life.
As an advocate of Peace, she has spoken and acted for peace throughout her adult years. She is a member of a Peace Circle, meeting monthly, for more than twenty five years.
Her other major interests are good talks with friends, viewing and collecting California art, and outdoor activities, including hiking in the scenic open spaces of Northern California, and planting and nurturing trees, particularly the beloved redwoods.
She speaks of the benefits that education brought to her by saying: "Having a college education is the singular thing to which I can attribute my success and well being. Because of my education, I have the friends that I have, own my home, have health insurance, have the means to travel, and live with good health and ease."