Access to Achievement Education Foundation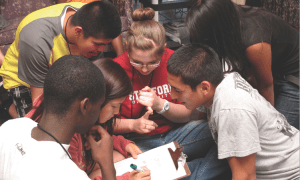 Building on Best Practices
Access to Achievement Education Foundation supports the educational needs of low-income, predominately under-represented minority (URM) students with a focus on those who are preparing for or attending college. The emphasis is on bright and committed students who may not be recognized as the most accomplished students by teachers, scholarship committees or colleges. Funding is provided that can make a critical difference in their success.
The Foundation was originally established to provide support for the Stanford Medical Youth Science Program (SMYSP), a program at Stanford University that provides academic enrichment and college admissions preparation to low-income high school students who show high potential for science and health-related careers. Since its inception in 1988, SMYSP has become a national model, known for its best practices. The long-term evaluation outcomes for its summer residential program are impressive: 100% of participants have graduated from high school, 81% have graduated from 4-year colleges, and among those, almost 50% continue on to graduate or professional schools, with many becoming health professionals. The program has been sustained on a long-term basis and is housed in Pre-Collegiate Studies at Stanford University, under the direction of the Stanford Provost.
The successful continuity of SMYSP creates an opportunity for the Foundation to reach larger numbers of low-income students who deserve the opportunity to achieve their potential.
Our History
In 1988, Marilyn Winkleby, PhD., MPH, a Professor of Medicine, emerita, at the Stanford School of Medicine, began the Stanford Medical Youth Science Program (SMYSP) with two undergraduate students. SMYSP is an evaluated pipeline program whose results show that academic enrichment programs in the biomedical sciences can be highly successful in increasing college graduation rates among students historically underrepresented in colleges and preparing them for health and other professional careers. In 2011, SMYSP was awarded the Presidential Award for Excellence in Science, Mathematics and Engineering Mentoring, the highest honor bestowed by the U.S. government for mentoring in these fields.
In 2005, Dr. Winkleby founded Access to Achievement Education Foundation to expand the reach of SMYSP and other similar programs. Dr. Winkleby is joined in her leadership by SMYSP alumni who are now health professionals, leaders in education, and biomedical scientists. They are supported by an Advisory Committee of SMYSP alumni, Stanford faculty, and community leaders.